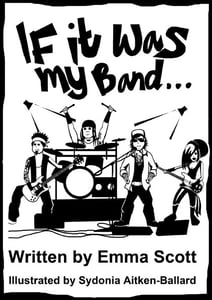 £

8.99
"A must read book for all upcoming bands & musicians!"
"A book that should be in every aspiring musician's touring van.."
"Starting a band or been rocking for years? Check out music bible If It Was My Band... for a fun guide to the industry"
"....invaluable information in here for bands on how to get on in the biz!.."
This beautiful new music industry book contains information on all aspects of the business. It is the compass and map that every aspiring successful musician should have, to help them reach their destination: making music their full time job.
From starting out, to getting gigs, achieving airplay and building a buzz, Emma reveals trade secrets and insider information on all aspects of the industry to help you break your band. This is the perfect gift to give any musician as well as a bible that all musicians who want to succeed should have.
Drawing upon her 25 years in the music industry, Emma Scott shares insider information on the business with the aim of helping bands and musicians all over the world to break into the industry and/or further their music career.
Revealing the inner-workings of the music industry, If It Was My Band… is the ideal book to have if you're planning a career in music.  Amongst the hundreds of tips to help you increase your chance of success, the book provides ideas of how to make money from your music as well as how to avoid wasting money in your quest for success.
Over the years, Emma has interviewed bands at the beginning of their careers and seen them get signed, get big and, in some cases, get dropped again. Working on radio shows at stations like Kerrang! Radio, Power FM, Galaxy and Metro FM, she's interviewed hundreds of artists like: Foo Fighters, Muse, Iron Maiden, The Killers, Bloc Party, Nickelback, My Chemical Romance, 30 Seconds to Mars, Fall Out Boy, Panic at the Disco etc
During her work as a TV and radio presenter, gig promoter, A & R manager at an independent record label and a radio plugger, Emma came into contact with thousands of musicians every year and it became apparent that many of them didn't know how to talk to industry people and help show their music off in the best light - and ultimately make music their full time job.
There were so many times when Emma received a badly written email or worked with a badly behaved band at a gig that she found herself muttering the words, "If it was MY band I wouldn't write an email like that or act like that…" and she started making notes every time she came across clueless or bad behaviour.  Before she knew it, she had a new book on her hands!
There's a handy glossary of industry terms and helpful contacts as well as a "checklist for success" which any musician can go through and tick boxes off as they achieve each new step. Written through the eyes of a band member, each point made in the book comes from a real-life situation that Emma has experienced.
There are over 300 top tips in the book as well as inspirational stories and facts about U2, The Killers, Red Hot Chili Peppers, Biffy Clyro, Paolo Nutini, Elbow, Snow Patrol, and Oasis, together with quotes from Kurt Cobain, Jon Bon Jovi, Ozzy Osbourne, Mick Jagger and Paul Weller, If It Was My Band… is the compass and the map to help any aspiring musician.
Emma says: 'By reading this book, musicians will get to learn from other people's mistakes and pick up hundreds of tips along the way - I'm really proud of it!" 
http://ifitwasmyband.com
http://facebook.com/ifitwasmyband
http://twitter.com/ifitwasmyband